All of the Nice motor kits, (which we install on all new installations), come with two, 2 button key fobs ("transmitters") for entry and egress to and from the property.
Where required, (e.g. for additional family members, multiple tenants, employees etc), we can sell and pair supplementary 2 or 4 button fobs.
These remotes can also control garage doors with the addition of a radio receiver.
We are also able to source additional/replacement key fobs for your existing automation system for most major automation brands such as BFT, Liftmaster, Beninca, GiBiDi, Came etc.
Keypads
In addition to key fobs, you can link a keypad to your gate. These keypads can be fitted to either the front and/or the rear of the gate depending upon whether you wish them to assist with the entrance to and/or the exit from the property.
These can be wireless or hardwired and can be standalone or come as part of a modular access system.
A keypad can be used as a back-up in case you forget your key fob.
It can be useful where the gate will have multiple users where it may not be appropriate for all to have key fobs (e.g. shared property or commercial premises).
Where the gate already has an intercom on the outside a customer may like a standalone keypad on the back of the gate to assist egress.
You may wish to facilitate access to certain trusted people, who visit on a regular basis (e.g. gardener or window cleaner).
Codes can be changed easily and therefore may be useful where you wish to facilitate access to people on a temporary basis (for example workmen or other visitors).
Videx Intercom Systems
For your intercom system we usually recommend the installation of a Videx GSM wireless intercom. The intercoms are available in 1 or multiple button kits. The intercom kits also come with an optional backlit 0-9 keypad. We recommend the Videx intercom models for their functionality and reliability and because they are user-friendly.
Videx are a leading manufacturer of access control systems in the UK with over 30 years of experience. They provide excellent technical and customer support.
Videx are always working to improve the application and usability of their technology for their end users. To this end they have recently brought out a new app to simplify operation for customers and to add new functionality.
These include:
The intercom will first ring the house (or other designated phone); if after a specified amount of time that phone is not answered it will then call another phone or phones (e.g. your mobile). This allows you to let in deliveries etc, even when you are not home.
The gate can be programmed to give pedestrian only access or full vehicular access.
The intercom can be programmed to be activated by multiple mobile phones. This can be useful where you have multiple family members, multi-occupancy buildings, businesses, schools, or trusted trades people to whom you wish to grant access without the need to buy a separate key fob for each person.
Temporary codes can be programmed for designated amounts of time (for example if you wish to grant access to builders who will be working at your property for say a week).
Free access time bands can be programmed to pin the gates open for designated times (for example when you expect to arrive home from work).
For more information visit Videx UK.
Vehicle Detection Systems/Free Exit
To exit your property you can use any of the methods above e.g. key fobs, key pads or by phone via the GSM intercom. For additional ease of exit a vehicle detection system can be installed in the driveway. These can be either by a loop system or a "dynamite" stick depending on the functionality required. The gates can be programmed so that when a vehicle crosses the sensor the gates open automatically.
These can be programmed in conjunction with an optional extra timer so that the free exit function is only active during a programmed timeframe. This can add security to your property and/or can run in conjunction with normal working hours where the property has a commercial use.
Push Button to Exit
A push button can be attached to the inside of the gate where the gate is designed to restrict access but free exit is desirable or needed. They can also be used when the gate or barrier is used as a deterrent for some users but you wish to allow free access to others (for example to prevent vehicular access to a bridle path where a push button can be elevated on a post for riders.).
In the Event of Power Failure:
Battery Back-up and Manual Release.
In addition, to all of the available electronic entry and exit systems listed above you will still be able to open and close the gates in the event of a power outage.
Battery Back-up:
One optional extra is a battery back-up for the gate motor. It acts as a battery so that when the gates are on the normal power supply it is continually charging. Then, if there is a power supply fails, the battery takes over and the gates will operate via remote controls on the battery supply. It is a battery so it will run down over time. This becomes relevant for gates with constant traffic (e.g. a commercial property) but for normal use of domestic gates the power cut could go unnoticed.
Manual Release:
As a fail-safe all motors come with a manual release system to allow the gates to be separated from the motor and operated manually. These vary from motor to motor and may be a key or a lever and come as standard as part of a new motor kit.
We can also supply additional or replacement manual release keys for most major automation brands.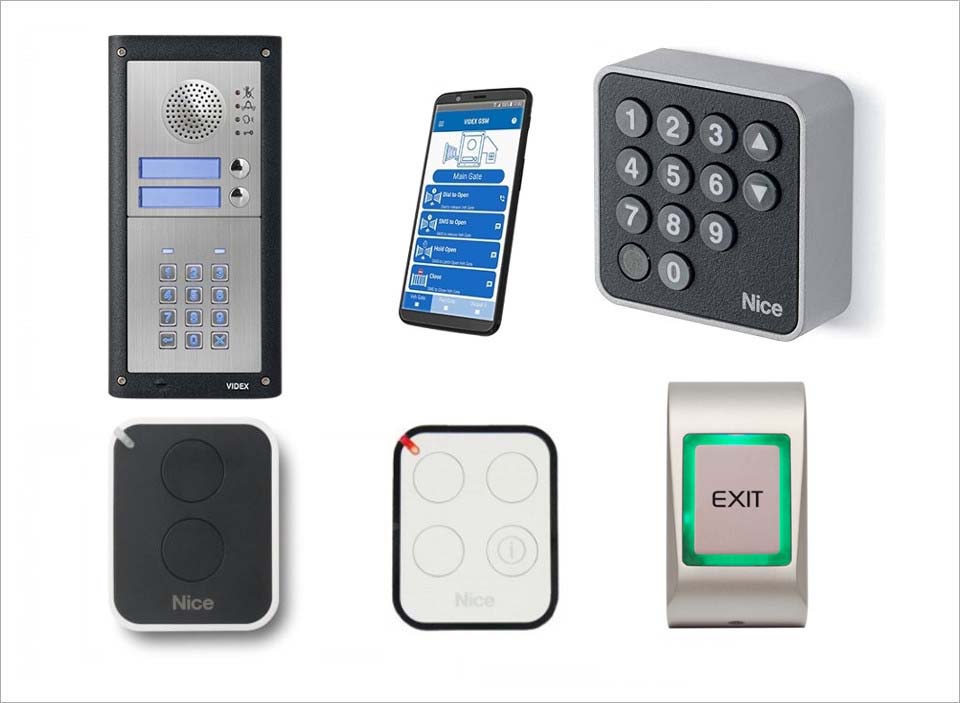 Book your free design consultation today