Our Classic and Modern ranges of aluminium electric gates reproduce the most popular styles of traditional wooden gates in a form that is both long lived and virtually maintenance-free.
Bespoke – Every driveway driveway and pair of gate pillars or posts is unique so every every set of aluminium electric gates we supply is tailor-made for your precise requirements in the style and colour of your choice.
Construction – just like a wooden gate, our aluminium electric gates are carefully constructed from aluminium sections which are precision-cut and joined in much the same way as timber gate component parts. This means that our aluminium gates look like hard wood gates and appear just as beautiful from your house as from the road.
Superb finishes – our aluminium gates are finished with an internationally recognized process called 'Qualicoat' which protects your gates with a strong outer coating that is guaranteed for ten years.
You can choose from a range of popular standard colour options as well as a variety of outstanding and incredibly realistic woodgrain finishes. And to extend the choices even further you can select from the entire range of RAL colours to have your gates finished in exactly the colour you want!
Maintenance – The incredibly tough surface coating and aluminium's natural resistance to corrosion means that you only really need to wipe them down with soapy water to keep them looking brand new.
Ordering – The process couldn't be simpler. Once we have the required dimensions and your choice of style and finish the gates are manufactured to your exact requirements. They arrive pre-finished, complete with any hinges, locks and stops required, ready for installation.
Why Aluminium Electric Gates are Great Value
Aluminium is the perfect choice – We believe aluminium gates provide the best value you can buy as they give you all the following benefits:
Made to order from high-quality aluminium that does not rust, rot, warp, twist, shrink or swell
Great looking gates in any colour or a choice of natural-looking wood-effect finishes
Qualicoat coatings that are guaranteed for ten years
Virtually no maintenance is required over a very long life to keep your gates looking as good as new
Installation is available in Harrogate, Knaresborough, Wetherby, Ripon, Leeds and across North Yorkshire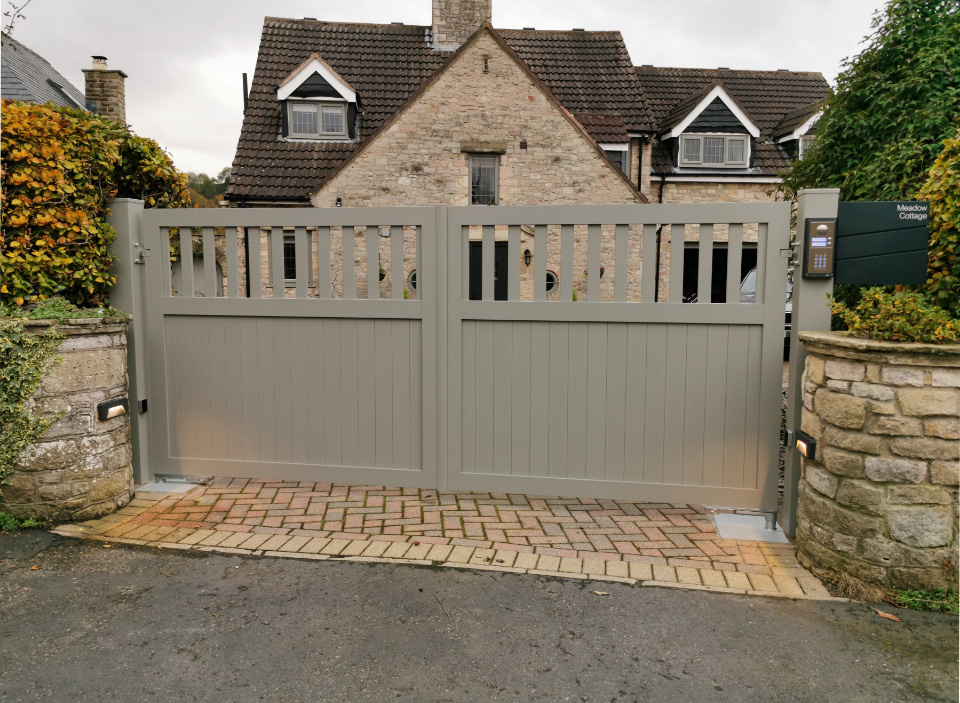 View Gallery
Book your free design consultation today